Author: Bert Stedman
I am happy to be representing my district as the co-chair of the finance committee alongside my colleague Sen. Click Bishop as part of the new leadership team in the Senate.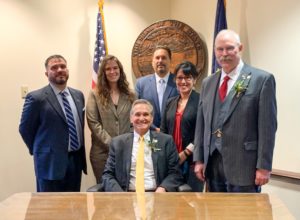 Pictured from left to right: David Scott, Mollie Barnes, Lt. Gov. Kevin Meyer, Pete Ecklund, Melissa Kookesh, Sen. Bert Stedman after my swearing in on Jan. 19, 2021.
The six-member Senate Majority leadership team, which balances Alaska's diverse geographic and philosophical representation, includes:
Senate Majority Leader Shelley Hughes;
Senate Majority Whip Mia Costello;
Senate Rules chairman Gary Stevens;
Senate Finance co-chairs Bert Stedman and Click Bishop; and
Senate President Peter Micciche.
Comments are closed.