Friday, November 19th, 2010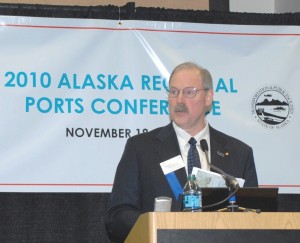 I just returned from Anchorage and speaking at the Alaska Regional Ports Conference.  The meeting was a good opportunity to talk with state leaders about accomplishments and challenges improving our state's marine infrastructure.
Alaska's ports and harbors are a vital part of our state's economic future.  Nearly all state owned harbors are in Southeast, so how these assets are managed is important to our region.  When I arrived in Juneau 7 years ago, I brought a personal commitment to ensure the rest of the state understands the importance of Alaska's ports and harbors.  The legislature has led the way on this issue.  We've increased local ownership of harbors and appropriated over $215 million in port and harbor improvements during the last 6 years.  The State of Alaska is also partnered with the Army Corps of Engineers and the Denali Commission to develop a strategic roadmap for revitalizing our ports & harbors.  I got a chance to observe the progress we've made both at the conference and during a tour of the Port of Anchorage.
I enjoyed addressing the conference and look forward to continue working with state and federal agencies, the Governor and the legislature to improve our coastal infrastructure. 
I'd like to thank Colonel Reinhard Koenig of the Alaska District Army Corps of Engineers and the Denali Commission for inviting me to speak, and RISE Alaska for putting on a great event.