Tuesday, January 18th, 2011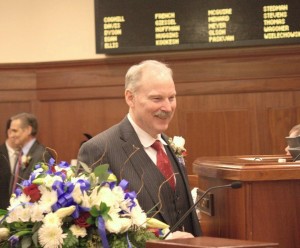 The 27th Alaska Legislature convened in Juneau today.  The ceremonies mark the opening of a new legislature, and the opportunity to address important issues facing our state.
During the next two years I will continue to serve as Co-Chairman of the Senate Finance Committee.  In that role, I serve as one of five members of the Senate leadership.  Along with my Co-Chairman Senator Lyman Hoffman, I will be responsible for scheduling legislation for hearings and drafting the state budget.
I will also serve on several committees that influence policy important to our district.  These include the Resources Committee, Rules Committee, Legislative Council and Vice-Chair of the Legislative Budget & Audit Committee.  These positions will help me advance Southeast issues, and ensure Alaska's finances are managed prudently.  I look forward to working with colleagues to find solutions for Alaska's energy needs, develop our natural gas resources, and further economic development in our state.
In the coming months I will continue to be engaged on these, and other issues, to get results for Alaskans.