Author: Bert Stedman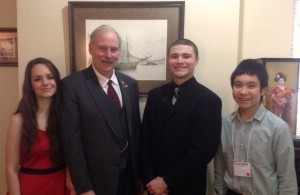 Senator Stedman had the privilege of meeting with several students from the Alaska Youth for Environmental Action (AYEA) program. According to the website, the AYEA program was created by the Alaska Center for the Environment to inspire and train rural and urban youth leaders to impact environmental issues by providing leadership skills training and youth-led community action projects. Every year, the youth have the opportunity to participate in the Civics & Conservation Summit during the legislative session. They travel to our state capitol to watch and learn the legislative process and meet directly with the legislators regarding bills that would have an environmental impact.
The AYEA students who met with Senator Stedman had the opportunity to speak directly with him regarding several different bills and topics of interest.  The bills discussed were HB 1 – State Arctic Policy; HB 19 – Discrimination: Gender ID.; Sexual Orient.; HJR 6 – Federal Contamination of ANCSA Lands; and HB – 58 Eligibility for AK Energy Effici Loans.  They ended the conversation with discussion on decupling of oil and gas, climate change, and electric carbons.  Senator Stedman was happy to be able to sit down with these future leaders from across the state to discuss important issues.
Pictured: Hayley Stumph (Craig), Senator Bert Stedman, Patrick Marshall (Craig), and Joseph Phillips (Chuathbaluk)