I enjoyed visiting Ketchikan this week to celebrate Independence Day. 
The community chose "Building for Ketchikan's Future" as the theme for this year's festivities. I was honored to serve as Grand Marshal of the Fourth of July parade, and humbled by Mayor Lew Williams' kind words in nominating me.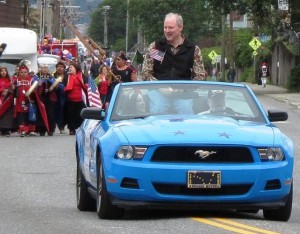 The celebration showcased numerous projects Ketchikan has undertaken to grow Southeast Alaska's economy and improve our quality of life.  I saw the benefits of these efforts firsthand when I addressed the grand opening of Ketchikan's Fire Station #1. 
The station will enhance public safety in the community and the training of Ketchikan's firefighters.  The new facility will last for generations, and I'm glad the Legislature appropriated funding to help make this project possible. 
It's a great honor to represent Ketchikan in the Legislature, and I enjoyed celebrating America's birthday with the community.  I'd like to thank the Ketchikan Chamber of Commerce and the City of Ketchikan for their invitation and for organizing a great celebration.