The Alaska State Legislature adjourned early this morning, marking an end to a productive legislative session.  I applaud my colleagues and the accomplishments made this session.  I am proud of the progress made this year toward addressing a range of energy, education, public health and safety, and transportation needs in Southeast Alaska as well as the rest of the state.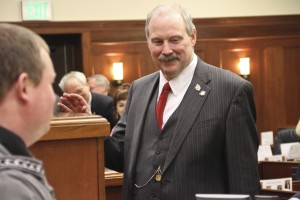 This year the Senate continued its goal of ensuring state government saves before it spends.  The Senate took the lead by setting aside $3.1 billion in savings in the Operating Budget, including $50 million for the Alaska Marine Highway System Vessel Replacement Fund, helping advance modernization of Alaska's ferry system. 
Today the Senate concurred on the House's changes to the fiscal year 2013 Capital Budget.  In my role as Co-Chair of the Senate Finance Committee, I was responsible for starting this year's Capital Budget process and leading the Senate's thorough and public review of that budget.  For every dollar spent in the Capital Budget, four dollars were added to savings through the Operating Budget.  The FY2013 Capital Budget appropriates $2.9 billion, including:
$870 million for transportation

$370 million to improve schools and education

$210 million to reduce energy costs statewide

$90 million to improve health care
The budget strikes a good balance between building our economy and meeting community needs through capital projects and keeping state spending in check.  You can see a full list of the FY13 capital projects for senate district A, which I represent, here.
The Legislature also appropriated $50 million in assistance to school districts and $46 million in community revenue sharing to help address the high costs of energy and heating oil. 
Throughout the session, the Senate led a thorough, detailed review of Alaska's oil and gas tax fiscal system.  The Senate's work progressed the public debate on this issue and sets the stage for making reasoned changes to the state's oil tax regime.  As a member of the Senate Resources Committee and as Co-Chair of the Senate Finance Committee, I worked to engage state agencies, oil companies, and oil and gas tax consultants in an effort to make Alaska's fiscal regime more competitive while safeguarding state revenues.
Notable pieces of legislation passed this session: