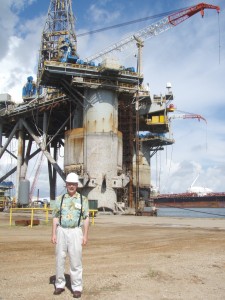 I recently returned from the Energy Council's quarterly meeting in Biloxi, Mississippi.   The Energy Council is a legislative organization with representatives from 12 states, 6 provinces, and the country of Venezuela.  Their conferences provide a great forum for discussing energy policy and an opportunity to introduce policy-makers to issues important to Alaska.
The conference focused on the Deepwater Horizon accident in the Gulf of Mexico.  It examined the gulf oil spill, spill response, and future policy implications resulting from the spill.  Our group heard presentations from researchers, policy-experts from the Minerals Management Service, and Mississippi Governor Haley Barbour.  As part of the conference I took a fly-over of the Mobile Bay and the deepwater production areas.  I also toured shallow water production areas, on-shore processing facilities, and learned more about the Gulf Restoration Plan being implemented.   
      
Alaska has one of the most prolific oil & gas basins in North America.  To best serve Alaskans, legislators need to have broad perspective of energy production.  I've served on the Energy Council's executive committee for four years and consider legislators' work on the council a key part of our efforts to develop Alaska's energy resources.  As our state works to advance exploration in Alaska's Outer Continental Shelf, it's important to study the accident in Gulf of Mexico and its policy implications.