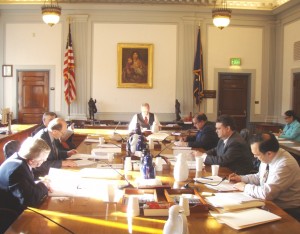 The Senate passed the FY2011 Operating Budget today.  The budget funds the workings of state government and provides for important public services.  Part of my role on the Senate Finance Committee is working with colleagues in drafting appropriation bills.  During this process the Senate made several revisions to the operating budget to make it more efficient.  This included cutting $7 million from the governor's budget request, and only adding select items to meet the needs of Alaskans.
The Senate included several provisions in the budget that will benefit Southeast Alaska.  The Alaska Travel Industry Association (ATIA) received an additional $5 million to bolster tourism marketing for our state.  The Alaska Department of Fish & Game received nearly $2 million to study changes in Alaska's fisheries; including Southeast Sablefish and Red King Crab populations.  The University of Alaska also received $300,000 to sustain Marine Advisory Program offices in communities throughout Alaska including Petersburg. 
I'm pleased with the Senate's work and look forward to advancing these issues during the last few weeks of session.