I am very pleased to announce the Department of Transportation & Public Facilities (DOT) has awarded a contract to build the Katlian Bay Road to K&E Alaska, Inc. The company is based in Sitka. My staff and I worked hard for many years to advance the project with DOT as a priority project that needed to keep moving forward.
I want to thank Governor Michael Dunleavy and DOT Commissioner John MacKinnon for recognizing the value of the road to the community of Sitka, Shee Atika, and Sealaska, and moving quickly to get the project awarded.
In addition to good paying construction jobs, the project provides access to Katlian Bay with opportunities for recreation, timber, subsistence, and remediation of the Katlian watershed and salmon runs. Access is provided to Shee Atika and Sealaska lands as well as state lands.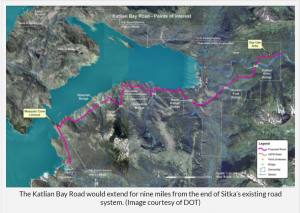 The project would build about nine miles of new single-lane, unpaved road with bridge crossings, beginning at the northern end of Halibut Point Road, extending east along the south shoreline of Katlian Bay, crossing the Katlian River, and ending four miles east of the estuary.
The road project was funded as part of a statewide bond package of transportation projects in 2012. The bond project was approved by voters statewide by a nearly 2 to 1 margin. It is great to see one of our projects in Southeast moving forward and onto construction.