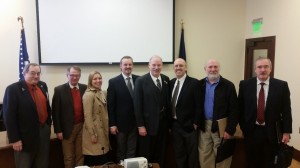 Senator Bert Stedman recently met with the delegation of Ketchikan officials in Juneau at the capitol.  "I explained the dire fiscal situation we are in while assuring them that we would do our absolute best to help the district.  Cuts should not fall unfairly on Southeast Alaska."  Said Senator Stedman.
The Senator also welcomed two new members of his staff, Susan Rael and Randy Ruaro.  Susan is replacing longtime staff and administrative aide at the front desk Julie Isom for the session.  Randy replaces Darwin Peterson as chief-of-staff.  Darwin is now the legislative director for Governor Walker.
"Randy and Susan bring years of experience in state service and the legislature.  I expect very good things from both of them.  Randy and his family have deep ties to Southeast Alaska and he was born and raised in Ketchikan.  He knows the issues in the district well." Said Senator Stedman.
"I thank both Julie and Darwin for their work in the office and for the district.  I wish them well in their new endeavors."