Author: Bert Stedman
Last Saturday, I was in Ketchikan for the christening ceremony of the F/V Arctic Prowler, a 136 ft. freezer longliner commissioned by the late John Winther.  Besides being the first vessel constructed in Ketchikan Shipyard's new 70,000 sq. ft. assembly and production hall, it is also the largest commercial fishing vessel ever built in Alaska.  John was a good friend of mine and I was proud to participate in the christening of such an impressive vessel in his honor.  John was born in Fairbanks on November 12, 1944 and he spent much of his childhood in Juneau before returning with his family to Fairbanks where he graduated from Lathrop High School in 1963.  After attending college in California and Washington, John settled down in Petersburg in 1972 to pursue a career in commercial fishing.  John owned and operated many fishing boats over the course of his career including the F/V Fremont, the F/V Constitution, the F/V Theresa Marie, the F/V Prowler, the F/V Bering Prowler, and the F/V Ocean Prowler. He partnered with Bart Eaton and Jerry Kennedy to form the long-lining business Prowler, which later became the Alaska Longline Company. The company partnered with the Aleutian Pribilof Island Community Development Association in 2000. In 2009, their company continued to expand with the acquisition of two vessels and fishing rights; and in 2012, it launched construction of the F/V Arctic Prowler.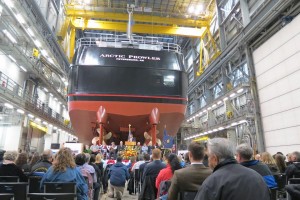 John was very active in many business ventures and volunteered in both the private and public sector. He was the director of Icicle Seafoods from 1980-1992, North Pacific Fisheries Management Council from 1983-1989, and the Alaska Industrial Development and Export Authority from 2003-2011. He was also the founder of Ultrastar Exploration and Winstar Petroleum. John was well known for his dedication to the commercial fishing industry and was highly regarded by everyone who had the pleasure of knowing this great Alaskan.  John passed away on October 15, 2012 at the age of 67.
Comments are closed.