Author: Bert Stedman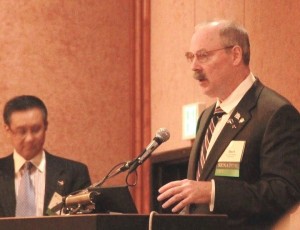 Last week I was elected Vice Chair of the Energy Council during the council's quarterly meeting in Anchorage.
The Energy Council is a legislative organization with members from 11 states, 5 provinces, and the country of Venezuela.  Hosting the conference introduced policy-makers to Alaska and provided a first-hand understanding of our state's energy opportunities.  The conference featured a variety of presentations, and included site visits to the North Slope and Cook Inlet.  As part of the conference, I chaired a panel on northern energy resources in the global market.  The panel included the premier of the Northwest Territories, the president of the Alyeska Pipeline Services Company, and an energy researcher from the University of Alberta.
Energy Council meetings are a great forum for discussing energy policy with some of the most knowledgeable people in the world on these issues.  Their conferences are a key part of our continued efforts to develop Alaska's energy resources.  I've served on the Energy Councils' executive committee for several years, and as Vice Chair will be next in line to serve as Chairman the following year.
Tags: Bert Stedman, Energy Council
Comments are closed.