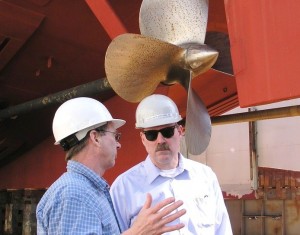 The Alaska Department of Transportation & Public Facilities announced that it has selected Alaska Ship & Drydock's Ketchikan Shipyard to be the construction manager and general contractor for the Alaska Class Ferry project.  This is great news for Southeast Alaska.
The Alaska Class Ferry will be the next generation of vessels for the Alaska Marine Highway System.  During the past several years I've worked with colleagues and the administration to secure $120 million to construct the vessel and find a way for the Ketchikan Shipyard to have a role in the project.  This announcement moves the project to the final design phase, and gives Alaska's in-state shipyard first option in negotiating a contract to construct the ferry.
Expanding transportation and marine construction is key to economic growth in our region.  The Alaska  Class Ferry project will create over 200 jobs and show that Alaska's ferries can be built here in Southeast Alaska.  As lead shipyard for the project, Ketchikan Shipyard will partner with DOT&PF to complete the vessel design during the next 12 months and begin discussions on constructing the vessel.
I'd like to thank the Governor and the department for their decision, and also Randy Johnson and Doug Ward of Alaska Ship & Drydock for their work on this project.